Agency Updates: December 2020
Butler County human services agencies released an updated list of services, hours, and current restrictions for clients and customers.
Need Help? Or Want to Help Others?
The Coronavirus, COVID-19, has shown us that many people need help, and that many people want to help. Corona Connects was created to match these people to each other, with filters for state, time commitment, and area of interest.
Financial/Housing
Critical Needs Fund
If you live in Butler, Armstrong, Greene or Washington County, and have been impacted as a result of COVID-19, Center for Community Resources (CCR) may be able to help.
To be eligible for one-time assistance through the fund, you must be receiving mental health services, in mental health recovery, or in need of mental health services. You must also show a loss of income due to the pandemic.
Eligible individuals may choose 1 of the 3 types of help: Utilities, Telehealth or Food Assistance.
For more information or to make a referral, call CCR at 844-360-4372.
Emergency Assistance for Low Income Families
Low-income families who are experiencing hardship due to COVID-19 may be eligible for immediate assistance through the PA Department of Human Services. Those who qualify can receive a one-time payment using Temporary Assistance for Needy Families (TANF) funds.
Families must meet income limits of 150 percent of the Federal Poverty Guidelines and have no more than $1,000 in a savings or checking account. Learn more about income guideline information. Qualifying families will be issued a one-time grant equal to two months of TANF benefits on an Electronic Benefits Transfer card (EBT).
Applications will be accepted beginning Monday, May 11, until all funds are distributed. Applicants should be prepared to submit all necessary documentation to avoid having to re-apply. Access the application.
Pennsylvanians can apply for Medicaid, the EAP, the Supplemental Nutrition Assistance Program (SNAP), the Children's Health Insurance Program (CHIP), and other public assistance programs at any time through DHS' online COMPASS application. Those who prefer to submit paper applications can mail documents to their local County Assistance Office (CAO) or leave documents in a CAO's secure drop box, if available. CAOs are still closed to the public, but mail and drop boxes are being monitored so applications can be processed.
Veterans Housing Services
Are you a former active duty veteran? Are you facing a housing crisis? Are you in need of assistance to help get you back on your feet? If you answer YES to these 3 questions, Supportive Services for Veterans Families is offering immediate temporary assistance for veterans experiencing a housing crisis. In Butler County, call 724-431-3748.
Update to Community Meals Schedule
Lunch Take-Out
Monday, Wednesday and Friday: Lunch take-out available at Salvation Army Open Door Program, 313 W. Cunningham St.: 11 AM-noon.
Wednesday and Thursday: Take-out lunch available at Light of Life Community Outreach of Butler, 232 West North St.: Noon to 1 PM.
Sunday: 1st, 4th and 5th Sunday of the month: Bagged lunch offered at St. Andrew's United Presbyterian Church, 201 E. Jefferson St. (use Cliff Street Entrance) : Noon-1 PM.
Dinner Take-Out
Monday: First English Lutheran Church, 241 N. Main St. (corner of N. Main and Brady Streets): 5-6 PM.
Tuesday: St. Paul Roman Catholic Church, 128 N. McKean St: 5-6 PM.
Wednesday: St. Andrew's United Presbyterian Church, 201 E. Jefferson St.: 5-6 PM, at Cliff Street Entrance.
Thursday: St. Mark's Lutheran Church, 201 W. Jefferson St. (corner of Jefferson and Washington Streets): 5-6 PM.
Friday: First United Methodist Church, 215 N. McKean St. (corner of North and McKean Streets): 5-6 PM.
Saturdays: Beginning 7/11/20: Second and Third Saturday of each month: North Street Christian Church, 220 West North St., 5-6 PM, outdoor meal.
Saturdays: First, Fourth, and Fifth Saturday of each month: New Beginnings Free Methodist Church, 416 Center Ave.: 5-6 PM.
Sundays: First, Fourth, and Fifth Sunday of each month: Bagged lunch offered from St. Andrew's United Presbyterian Church, 201 E. Jefferson St.: Noon to 1 PM. Use Cliff Street Entrance.
Sundays: Last Sunday of the month: St. Peter's Anglican Church, 218 E. Jefferson St. (use Cliff Street Entrance) : 5-6 PM.
Nutritional Assistance
As COVID-19 crisis continues, the Food Bank continues to operate as an essential business. We are here to feed our neighbors in need, now more than ever. The longer this uncertain time in our nation's history continues, the greater the demand for our services will be.
IN NEED OF HELP?
There are many ways to get help with food. Below are some options. More information is available on the Pittsburgh foodbank website at the "Get Help" tab.
Sign up for SNAP (Supplemental Nutrition Assistance Program, formerly food stamps). SNAP is designed to help individuals and families make ends meet by providing money to purchase groceries. We're here to help you through the application process. Income guidelines for this program are located here. You can fill out the SNAP Referral Form on our website, give us a call at 1-833-822-SNAP (7627) or text SNAPPA to 555-888.
Find a food pantry in your neighborhood that can provide help with free groceries. If you earn an income that is 150 percent of the federal poverty level or are experiencing an emergency such as a job loss, we can help. Using just your zip code, our digital locator tool helps you find a pantry near you. Income guidelines for using our pantry network is located here.
Children can get free meals from schools and other community programs. Many schools are giving grab and go meals to children who qualify for free and reduced-price school meals. A map and list of opportunities is available here.
Butler County Food Bank Updates
<Also see current food bank list.>
Butler County Food Bank will remain open throughout the COVID-19 pandemic. Serving our community and those in need during this uncertain time is our number one priority. We will continue providing our regular services and we will also offer emergency food assistance to families and individuals adversely impacted by COVID-19.
In addition to these services, the USDA has also approved a statewide plan for disaster food distribution. Foodbanks have been given increased flexibility to serve our communities through The Emergency Food Assistance Program (TEFAP). This flexibility will allow us to support more families while enhancing public safety for workers, volunteers and emergency food recipients.
Access the full Disaster Household Distribution Program.
For immediate assistance, please use the Butler County Food Bank contact information:
If you are in an emergency situation or have questions, call us at 412-460-3663 to figure out the best way we can support you.
Clothing
BOAZ House,

CLOSED UNTIL FURTHER NOTICE

Glade Run Church, 1091 Pittsburgh Road, Valencia, PA 16059. Thursdays, 12:00 PM to 3:00 PM. All clothing, household items, and kids' toys are free.
Catholic Charities Pregnancy and Parenting Program, 821 1/2 E. Brady Street, Butler, PA 16001. Diapers and children's clothing are available for low-income women who are pregnant and/or have a child under age two. Must call for appointment: 724-332-4681.
Dress for Success Pittsburgh, Holly Pointe Building, 220 S. Main Street, Suite 301, Butler, PA 16001. Free new and gently used professional clothing for women searching for or starting new employment, or for court dates. All client and donor services will be no-contact and by appointment only. The team is still reachable during business hours even when the boutique is not physically open. For an appointment: email:

[email protected]

or call 724-431-0260. Open Monday, Thursday and Friday, 9 AM to 2 PM.
Goodwill Store, 370 New Castle Road, Butler, PA 16001 (across from Moraine Point Plaza). Monday through Sunday, 10:00 AM to 7:00 PM.
Grace's Closet, Grace @ Calvary Lutheran Church, 123 E. Diamond Street, Butler, PA 16001. Free clothes for all ages; gently used donations accepted. phone: 724-283-0830. Open Second and Fourth Saturday of each month, 10:00 AM to 12:00 PM.
Salvation Army Thrift Store, 1623 N. Main Street Ext., Butler, PA 16001. Monday through Saturday, 9:00 AM to 6:00 PM.
Second Grace Shoppe,

CLOSED UNTIL FURTHER NOTICE

First United Methodist Church, 200 E. North Street, Butler, PA 16001. Two Thursdays per month, 4:00 PM to 5:30 PM, call for open dates: 724-283-6160.
Suit Yourself, VA Hospital Building, 325 New Castle Road, Butler, PA 16001. Free men's and women's clothing, No Children's Clothing. Must call for appointment, 724-287-4781, ext. 4108. Open Monday through Friday, 10:00 AM to 4:00 PM.
Mental Health
Anxiety
Dealing with Pandemic Panic
In this stressful time of uncertainty, while many parents are dealing with anxious children–of all ages–and the worries of working at home and/or "Do I Still Have A Job?", it gives us a (little) comfort to take charge of our lives. When you have the ability to spot the signs and symptoms of stress and anxiety, it might be easier for you to work toward solving the problem.
Symptoms of stress that are apparent for all ages include:
restlessness
fatigue
trouble concentrating
irritability
muscle tension
trouble sleeping
For more information on signs and how to handle them, read the entire article.
If you or someone you love are having difficulty dealing with anxiety you can also reach out to help lines. You can go to: https://suicidepreventionlifeline.org
National Suicide Hotline 1-800-273-8255
Text CONNECT to 741741.
If you are in:
Allegheny County: call Re:Solve at 888-796-8226.
Butler County: call CCR crisis services at 800-292-3866
Crawford County: call CHAPS at 814-337-2372
Dauphin County: call the crisis line at UPMC 800-300-9558
Erie County: call the crisis hotline at 800-300-9558
Forest and Warren County: call 814-726-8413 (8:30-5:00pm) 800-406-1255 (after 5pm, weekends and holidays)
Green County: call SPHS CARE Center crisis hotline 800-417-9460
Lawrence County: call crisis hotline at 724-652-9000
Mercer County: call Mercer County Crisis Intervention at 724-662-2227
Washington County: call the crisis hotline at 877-225-3567
York County: call York Hospital Crisis Intervention Services at 717-851-5320
You DO NOT need to be suicidal or in crisis to call.
For further information, visit the UPMC site.
Teens and Reopening
After months of being cooped up at home away from friends, unable to attend school or go out, most kids are chomping at the bit to get back to the lives they had before the pandemic. Getting teens to take safety seriously is a struggle at the best of times, and as the nation moves towards reopening, it's never been more important to ensure kids are following the rules.
From Child Mind Institute, here are some tips for helping kids stay safe during a confusing time:
Hear Them Out
Empathize and Validate
Create Perspective
Stick to the Facts
Use Trusted Sources
Personalize the Situation
Click here to read the details of this list.
Self-Care While Social Distancing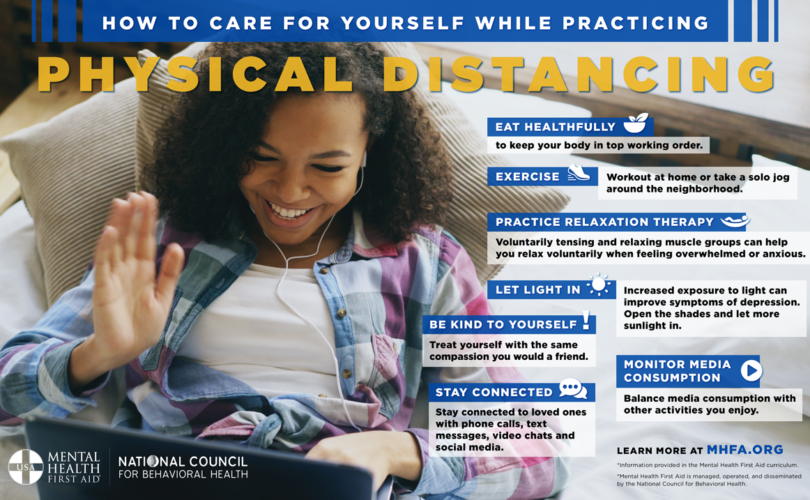 Anxiety and Coping with COVID Stress
We're all on edge due to Coronavirus uncertainty. Disruptions to our "normal" school and work schedules, financial distress, health concerns, food insecurity . . . the list goes on and on.
Experts say that dealing with your own stress is the first step in helping your kids. When kids see their parents in an anxious state, they can't help but feel anxiety themselves. We can help them learn to cope with this anxiety, teaching them healthy behaviors through daily modeling.
Read More. . .
7 Ways Your Teen Can De-Stress
The school year–especially this one affected by COVID-19 closures–can be very stressful for teens. Many turn to unhealthy, potentially dangerous, ways to deal with their stress. Help your teen by encouraging healthy habits. Here are seven ways for teens to deal with stress.
Disappointed? Tools for Coping
Coronavirus has given way to overwhelming disappointment: so many cancelled events, so much disruption to daily life, so many school-work-store closings…
As parents, our first impulse is to downplay the disappointment: "It's not a big deal," or "So many people have it worse." But kids need to share their feelings and adults can help most by listening.
Kids, especially younger ones, don't have the perspective adults have of dealing with life's disappointments. Read more
Helping Kids Through the Coronavirus Crisis
Here are tips from Child Mind Institute's clinicians to help calm fears, manage stress and keep the peace.
Keep routines in place: The experts all agree that setting and sticking to a regular schedule is key, even when you're all at home all day. Kids should get up, eat and go to bed at their normal times. Consistency and structure are calming during times of stress.
Be creative about new activities–and exercise: Build in activities that help everyone get some exercise (without contact with other kids or things touched by other kids, like playground equipment). Take a daily family walk or bike ride or do yoga — great ways to let kids burn off energy and make sure everyone is staying active.
Manage your own anxiety: It's completely understandable to be anxious right now (how could we not be?) but how we manage that anxiety has a big impact on our kids. Keeping your worries in check will help your whole family navigate this uncertain situation as easily as possible.
Limit consumption of news: Turn the TV off and mute or unfollow friends or co-workers who are prone to sharing panic-inducing posts.
Stay in touch virtually: Keep your support network strong, even when you're only able to call or text friends and family. Let kids use social media (within reason) and Skype or FaceTime to stay connected to peers even if they aren't usually allowed to do so.
Make plans: Making plans helps you visualize the near future. Even better, assign kids tasks that will help them feel that they are part of the plan and making a valuable contribution to the family.
Keep it positive: For example, "It's so cool to have everyone home together. We're going to have good time! Remember, though, we'll still be doing work and sticking to a regular schedule."
Keep kids in the loop–but keep it simple: Unless kids ask specifically, there's no reason to volunteer information that might worry them.
Ask for–and accept–help: If you have a partner at home, agree that you'll trade off when it comes to childcare. Especially if one or both of you are working from home and have younger children. That way everyone gets a break and some breathing room. Everyone who can pitch in, should. Give kids age appropriate jobs. Working as a team will help your whole family stay busy and make sure no one person is overwhelmed.
Read the entire article from Child Mind Institute
Care Resources
Online Support for Parents and Caregivers
Partnership for Drug-Free Kids announces their online support community gatherings are moving to new times. Join their free, live online gathering to discuss real-life issues and common concerns families are facing in these unique and uncertain times.
Mondays, Tuesdays and Wednesdays: 8-9 pm ET/5-6 pm PT
Saturdays: 11 am-noon ET/8-9 am PT
The online support community is for parents and caregivers who may have children experimenting with, or dependent on, substances. Hosted by specially trained parent coaches, with clinical support from helpline staff, they'll discuss ways to talk with your child so they listen, establish healthy limits and consequences, and practice self-care.
Early Intervention Services During COVID-19
Tele-intervention services are now available: call the CONNECT helpline, 1-800-692-7288 or email the Office of Child Development and Early Learning Center at [email protected].
Resources for Older Adults
Pennsylvania Area Agency on Aging has resources for Older Adults, with specific focus on COVID-19, including signs and symptoms and where to go for help. For the most accurate and timely information regarding COVID-19 in Pennsylvania, visit the Pennsylvania Department of Health's COVID-19 Resource Page or call 1-877-PA-HEALTH (1-877-724-3258).
COVID-19: Help in Accessing Critical Medications for Your Loved One
If your loved one is considering or using pharmacotherapy, also known as medication-assisted treatment, to treat their opioid use disorder, you may be wondering how COVID-19 will impact their ability to get these critical medications. Read on
Online Meetings
Teletherapy – 4 Quick Steps to Get Started
AA Meetings Offered via Phone or Web
Online and/or phone meetings for Alcoholics Anonymous are offered daily at various times. Instructions for connecting are provided.
NA by Phone Meetings
Narcotics Anonymous announces updates to its Meetings via Phone Conference. Many opportunities are offered and instructions for connecting are included.